As the final months of my pregnancy are approaching, I looked back since the beginning on what people didn't tell me about after you become pregnant. This isn't some weird article about weird things that happen. Not all of them happen with your body, but with your mind and social life as well. These were the things I was never warned about before I became surprised with our little bundle of joy.
Every pregnancy is different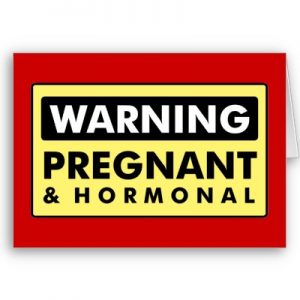 When you have those friends who tell you "Oh, it's wonderful" and "Oh, you'll love it, it's a great experience" honestly I want to smack them in the face. I will say I like about 50% of my pregnancy. This doesn't make me a bad mom for saying this, but a realist. I hate nausea, I hate heartburn and indigestion, I hate when she lays a certain way and it crushes my organs. I hate the way I don't have a perfect round belly with no stretch marks like you see the women on TV and magazines. Though I love when she kicks to music because I'm sure she's going to be a little punk rocker like me. I love the way she and my husband have this secret buddy bond going on with already. I love the prospect of being a mom. Any mom who tells you growing a baby isn't hard apparently is a miracle case because it is hard. It's painful and uncomfortable. I'm honestly just ready for her to get here so I can have my body back because I want to feel a smidge bit normal again.
Half the friends you had before you were pregnant will magically disappear.
That is a pretty big thing that they don't tell you will happen. You think Oh your friends will just accept the fact that you're going to be a mom. Your life is most likely going to revolve around your child and that freaks them out. They will run like the wind. You hardly ever hear from them. Of course you can't drink so they assume you don't want to go out. I honestly wish I had that group of friends on How I Met Your Mother who stick by your side like glue unless they are parents themselves they will leave you when you need them most. Then they wonder why you act like a crazed person when they finally turn up out of the blue. Unless you have some friends that are already parents, they will treat you like a leper. It really does end up getting to you because these are the friends that say they would stick with you till the end. Then you got to realize you're going to be a mom and you toughen up and say f*** them all. Most people won't tell you this because it's the cold blooded truth and no one has the balls to give it to you.
You will get the pregnancy brain farts
I'm a natural blonde. I know what brain farts are. I have them all the time, but nothing measures up to how much stuff you will forget when you are pregnant. My writing went to crap. I had projects that I just lost track of. Your partner will tell you to do something and it will completely fly out of your mind and go somewhere far far away. Probably to Neverland where Peter Pan lives because unless they mention it again, it's GONE. If you have a job this will be the hardest thing to deal with because you will forget your tasks. All I can say is WRITE IT DOWN otherwise it will be lost in the infinity of lost tasks that will probably get you in trouble. I absolutely hate it. I like to remember stuff because normally I'm awesome at it. Lately though I've just let things go and I'm a control freak and it completely drives me insane. My husband asks me to do tons of things and I just lose it all. If you are planning to or in the early stages prepare for it. Make sure you have notebooks and pens everywhere.
You will be exhausted
Unless you are one of the miracle pregnancy cases, then this will most definitely apply to you. That child is going to drain every ounce of energy from you. You will sleep like you've never slept before. I sometimes can sleep 10-12 hours straight no problem. The major problem with this is if you have a job. Getting up is a serious chore. You just don't want to but you better or you will be fired. The late stages make the early stages look like child play. Dishes pile up, dirt is on your floor, and laundry is piling up like lava flowing out of a volcano. You just don't want to and it sure willpower just to get up and do it. You feel like there's some science fiction monster sucking the energy from you because you honestly feel like it. I never gave my mom props for taking care of us while being pregnant, but I feel it now. She seems like a superhero in my eyes because it's like Superman trying to fight with a big slab of Kryptonite strapped to his back. That is the best logical explanation for your exhaustion.
You will get crazy
You have all these hormones going through your body that almost make you feel like a teenager. Your feelings are super sensitive. You won't be able to deal with much stress without having to let out what you feel. Sometimes it makes you feel absolutely insane because sometimes what you feel about is absolutely insane. I have cried over pie. I have yelled over video games. You will have arguments for hours about something that isn't even remotely relevant. I might as well tell you not to watch a sad movie ever. You cry at the drop of a pin. You'll go back to yelling at your mom for not treating you like an adult. You will throw things, you will raise your voice, and you will give long silent treatments for days. People will call you crazy and you will act that way and it's all because of those awful hormones.
Just because I got the worst side effects of pregnancy doesn't mean I'm not excited. It will be worth it. I already can't wait to meet her. After all these things only one person has given me the best ultimate advice. You deserve to feel like this and no one should tell you that you aren't. You are housing and making a human being. It's a beautiful thing. You are creating a miracle and it's perfectly acceptable to be who you are. That doesn't mean that people should abandon you, but that you shouldn't let it get to you. You are about to have the closest thing to a best friend that you can get and you have this one for life whether you like it or not. I hope this helps anyone that is going through this or anyone that wanted to know how your friend or partner feels and how you can relate.