Brian Williams and NBC……What The Fuck?!?!?!?!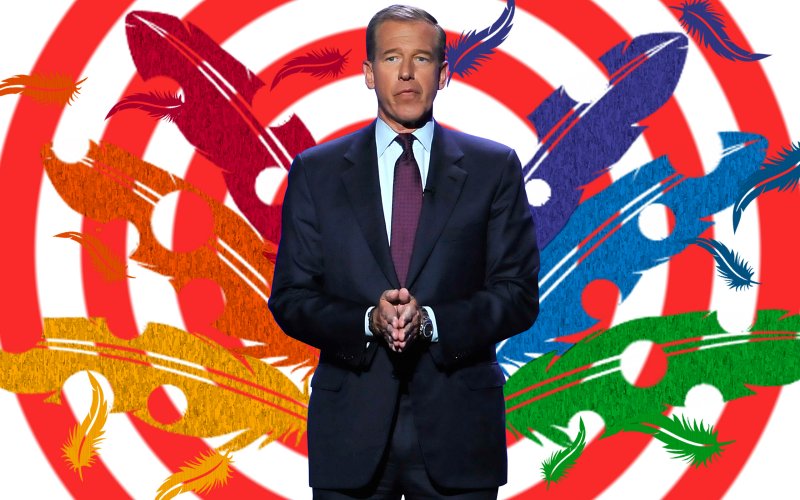 I like many Americans, hate watching the news. There is something that is very depressing about an anchor talking about how horrible life is in some of the world. Hell, chances are that most of us find depressed news in our feeds on Facebook. It's a tad bit sad. A few times of the year thought, I will actually sit down and watch the news. I feel that there are a few stories worth following. One of those stories was the Iraq War. I think a lot of that had to do with friends serving overseas. We turn on the television to get news from a reliable source. A lot of Americans watched NBC News. Tom Brokaw was a voice that we grew up with. Once he retired, he was replaced by Brian Williams. Apparently, no one told Brian Williams or NBC the story of a boy who kept telling everyone that a wolf was around. Eventually, the townsfolk stopped listening to the boy. The day arrived that the wolf would actually show up to eat sheep. If we translated that to this situation, Brian Williams is the boy, The internet is the wolf, and the sheep are the people who bought the story.
If you do not know the story, Brian Williams claimed in 2003 that he was shot down in Iraq. Well, the anchor said he exaggerated the story this past week. I think the question that is on my mind is one thing, WHY IN THE HELL WOULD YOU LIE ABOUT THAT? I feel that Brian Williams just became equivalent of the type of guests that one would see on Dr. Phil or even worse, Steve Wilkos. That is just plain sad. I am not sure why you would make up a story like that. If anything Brian Williams should never sit behind a news desk again unless it is for Fox News. What gets me in all of this, is that after 12 years the truth come out. How did the truth about this incident not be revealed sooner? Brian Williams now has the reputation of "The Situation" from Jersey Shore. Williams also claimed that during the coverage of Hurricane Katrina, a dead body floated by him. Conflicting reports say otherwise. I suddenly want to bang my head against a wall, but was Brian the only one in the know on all of this?
That brings us to NBC. The network whose ratings are flatlining like a patient on House, and chances are the peacock does not have Lupus. NBC has been fighting to stay atop of the television world that has to be difficult when their shows are being beat by the CW. I guess in some markets NBC is also getting beat by reruns of The Andy Griffith Show. NBC has a lot of issues they are trying to work on, but how do you bump ratings? Create drama. Part of me believes that Brian Williams is not the only one to blame for this situation. NBC is like that friend that nags you to have sex with a random woman in a bar, and once you have contacted herpes, they had nothing to do with it. NBC suspending Brian Williams makes them look like the victim, when they have just as much to do with this as Brian Williams. A suspension is a slap on the wrist. It's like popping a rubber band on a fat roll. You just will not feel it. A campaign will start asking that Brain Williams will not be allowed to return, but NBC will allow it. Want to know why? His return will be during the next sweeps month. Color me shocked! (Hint the sarcasm)
Maybe they should just replace him with Willard Scott and let the fun ensue. I think what Brian Williams is getting is very much deserved, but I also think the Peacock should be put on a pole and roasted with an apple in its mouth.