"The making of a great compilation tape, like breaking up, is hard to do and takes ages longer than it might seem. You gotta kick off with a killer, to grab attention. Then you got to take it up a notch, but you don't wanna blow your wad, so then you got to cool it off a notch. There are a lot of rules." – John Cusak in High Fidelity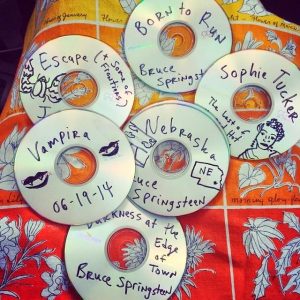 I remember many nights as a teenager and as an early to mid-twenty-something sitting in front of my computer, usually staying up much later than I should have, making mix CDs for people. Combing through thousands (no, that's not an exaggeration) of songs in my iTunes library, trying to find the right songs to perfectly fit each CD I was making, because of course each one had its own theme and served its own purpose. I never cared how long it took; each mix had to be just right and deliver its message just the way I wanted it to. Sometimes they were for friends who I had the urge to share new music with that I thought they might like. Other times they were for special occasions, a party or road trip maybe. On a rare occasion, they were for guys I liked. More often than not the mixes were just for me. Whenever I was going through a situation, I always had a different mix CD, each one full of songs to either pull me through it, make me feel better, help me relax, get my aggression out, or to just be there in the background while I pondered life's many mysteries. Music was my therapy, and making those many mix CDs was my therapy session.
That was a time, though, when making mix CDs was still a thing. Before the mix CD, there was the mixtape. Both were equally emotionally fulfilling and were their own art form. Each served their purpose. Any true music fan remembers what it was like in the 80's and 90's to sit by a boom box and wait for your favorite songs to come on the radio so you could record them, or rewinding and fast forwarding through one artist's cassette so you could record it onto a blank tape for yourself to go along with other songs. And if you didn't already know which songs you wanted on your mix tape before you started or wrote them down to keep track, then you were in trouble. I bet every real music fan also remembers when we entered the digital age, and the mixtape became the mix CD. Going digital allowed the music fan to keep all their favorite songs and albums on their computer, so that with just the click of a button and the drag of a mouse, the making of a great mix had become not only easy, but convenient.
So what's taken the place of the mix CD and the mixtape now? Well, nothing. Kids, and most people in general, these days don't even listen to CDs. Everything is completely digital and made to listen to on any electronic or smart device. Forget the days of carrying around a backpack with your Discman and a dozen of your current favorite albums for you and (sometimes) your friends to listen to. Hell, people don't even need a CD player anymore. If you have a computer, laptop, smartphone or tablet then you can access your music from there via your iTunes library or music-streaming services like Spotify. You can even listen to online radio, like Pandora. Nope, no need for those CDs anymore unless you want to use them for coasters or target practice. Throw that old boom box in the trash, unless you're doing a John Cusak in Say Anything costume for Halloween. In fact, music is so digital that most stores don't even carry that large of a selection anymore in the department. If you're looking for that underground band your friend told you about or that one import CD your favorite band put out years ago then I'd say your best bet is to try ordering it from Amazon. Otherwise, you might want to sign yourself up for a Spotify or Apple Music subscription.
As a hardcore music fan, I find myself in a difficult position here because while I love the convenience that music streaming services like Spotify offer me, I also miss sitting down and making that epic mix CD. Don't get me wrong, Spotify is amazing because I can listen to almost anything I want directly from my iPhone or iPad, and at the low cost of $10 a month, I mean, how can I argue with that? It also lets me discover new artists quicker and more frequently, as well as listen to new music the second it's released. However, if I want to share that music with someone, I have to send them a link via text message or social media. It's not exactly the same and definitely doesn't have the same effect as creating and handing over a physical CD full of songs picked specifically for that person. It just loses its personalization when it's shared digitally.
It saddens me to know that today's generation and future ones to come will never know the joy and satisfaction that comes from making and receiving a really great mix. All of the time, effort, and emotion that goes into creating it, and the excitement and appreciation that comes from receiving one will be unknown to them. I remember years ago when I was going through a really rough time trying to get over a guy and my friend and co-worker at the time made me a mix CD full of songs that helped me get through it because they perfectly explained how I was feeling. I remember feeling so incredibly touched that someone had actually made me a mix CD for once. I was always the one making them for other people, and I remember being so excited to listen to it, because they were mostly songs that I hadn't heard before but ended up loving. It was such a wonderful feeling that kids these days won't get to experience.
To some people, it may seem like a silly thing to miss, a cassette or a CD. But let me tell ya, they weren't just cassettes or CDs. They were moments in time, memories, gifts with special messages and emotions. Mix compilations were the best way to introduce your friends to new bands they hadn't heard yet. They made the best soundtracks to road trips, parties, BBQs, sleepovers, or just to have while you got ready to go out. And they were the perfect, most genuine, and heartfelt way to tell someone how you felt about them. They were songs picked specifically and specially because of the emotion they expressed, and because of the story they told when put together in just the right order. To the people who made these mixtapes and mixed CDs, they were much more than just a format to distribute music.
As I write this, I think of all the mix CDs I've made in my life. All that time spent, all the late nights I should have gone to bed, all the frustration of trying to find the right songs, and the stress of putting them in the right order, and all the money spent on blank CDs make them. But you know what else I remember? I remember all the friends whose days were made when I handed them those CDs. I remember all the great times that were had to those mix CDs. I think of all those mix CDs made, and the memories made to them, and I think it was time very well spent because music is the only thing that stays when everything else is gone.
As Rob Sheffield said, "The times you lived through, the people you shared those times with — nothing brings it all to life like an old mix tape. It does a better job of storing up memories than actual brain tissue can do. Every mix tape tells a story. Put them together, and they can add up to the story of a life."