It has been several months since The Buzz Kill Magazine staff assisted with the Family Neighborhood Comic Expo in Paragould, AR. During that time, the staff members were kept pretty busy. Some of us ran the magazine's booth, others assisted with the celebrity guests, ran errands, and just about anything else that could be imagined. It was two crazy, amazingly fun days. Unfortunately, all the chaos prevented me from sitting down with any of my fellow cosplayers and getting to know them. Luckily, a couple of weeks after the convention, I was contacted on Twitter by cosplayer. I had caught a few glances of her costume while at the convention and was stunned by the quality. I was ecstatic that she had found me and was willing to share her story.
Her name is Demetria Vance but when cosplaying and representing her character she goes by the name of Dee's Nightmares. She picked this name from a television show called "Freddy's Nightmares". Demetria first became interested in cosplaying after she learned about it on the internet. She immediately fell in love and has wanted to do it since then. Dressing up and going to conventions sounded great to her. She was immediately sold on the idea.
The first convention that Demetria ever attended was the Little Rock Comic Con, however, she did not cosplay at this event. She officially began cosplaying in October of 2014. When she initially began to cosplay, she tried out several different characters but none of them ever felt quite right to her. Finally, she made the decision to cosplay only one character. The character she chose was Lorne from the television series, "Angel". She loved Lorne's many outfits and states that he is her favorite monster in the whole world. For those who never watched Angel or who may have forgotten, Lorne (short for Krelornswath of the Deathwok Klan) is a nice demon. When he sings, he has the special ability to read people's auras and futures. He was a classy sort of character and ran a jazzy nightclub.
Once she decided to be Lorne, she set about assembling the costume. Madhouse FX custom-made the silicone mask with human hair and the gloves. She also has custom-made outfits and shoes for Lorne. It takes approximately 2 months for the items to arrive once she orders them. At this point, she has an impressive number outfits totaling to be 63! Each one is different. She has given every single outfit a name. She also has an Angel puppet and microphone for props.
I was curious how long it took to get into costume. Demetria explained at the Family Neighborhood Comic Expo, she had just been released from the hospital following a major surgery. While she had stitches, staples, two medical binders and required help from a friend, she was able to get into costume within an hour. I find this to be remarkable. My cosplay costumes are fairly simple but make-up slows me down. I often require more than an hour!
We shifted topics to conventions themselves. After all, what is cosplay without a convention? Demetria typically attends about 6 conventions a year. She does participate in cosplay contests. She has placed in three of the contests. Demetria won first place in the Nerd chapel. She won second place at our convention, the Friendly Neighborhood Comic Expo. Additionally, she won Honorable Mention in Cosplay Shout-Outs 18th category best original cosplay.
Demetria knew of one other woman who cosplayed Lorne but she has since retired. Other than that, she has never seen another Lorne cosplayer. Demetria is the only local Lorne cosplayer that she is aware of. Sadly, she says that most people just simply do not want to cosplay as Lorne. She has also never seen any other character from the show "Angel". While on the topic of cosplay, Demetria says that best cosplay that she has ever seen was Alien and the worst was Naked Pam Poovey from Archer. I giggled at that one.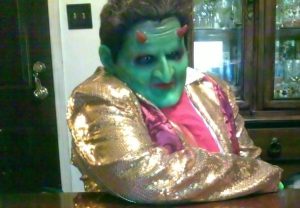 Demetria explained that her favorite part of attending conventions is basically everything. She loves to see her friends at cons, seeing the cosplayers, meeting guests, looking at cool horror merchandise, and the food. Demetria also told me that she would love to do volunteer work as a cosplayers but finds that it is very difficult for monsters and demon characters, such as Lorne, to be chosen. Most people who are picked as volunteers are super heroes, Disney princesses, or cute cartoon characters. She has tried very diligently in the past and has applied multiple times to be a volunteer but always gets turned down.
Demetria had a message that she wanted to share with others about her experience in cosplaying. "It is fun and I love it. I would not trade this for anything in the world. Don't let anyone tell you that you can't do this. Lots of people told me that I couldn't do it, but I didn't listen to them."
Before, I could let Demetria go, I had one last question that I was dying to ask. I had to know if she ever sang like her character, Lorne, does on the show. She responded, "Only at home." Too bad because I would have loved to see it happen.
Demetria Vance is a wonderful woman. I am so excited that we had the opportunity to meet her and I look forward to a long friendship with my fellow cosplayer. I have no doubt that we will likely run into each other at future conventions. Anyone that is interested in learning more about Demetria or would like to watch her journey as a cosplayer, you can follow her @deenightmares on Twitter.