Kelsea Ballerini is no doubt the most delightful human being I have ever had the privilege of meeting. The 23-year-old Tennessee native is bubblier than a glass of champagne, sweeter than a slice of pie, and truly has the most genuine smile I have ever seen. She's exactly the kind of person you want to be friends with. Honestly, it's no wonder the girl has 624K followers on Instagram alone. While backstage with Kelsea at CBS Radio's Stars and Strings concert for the Veterans, I asked her how important she thinks it is for artists to maintain social media relationships with their fans.
"There are some artists that their persona is being mysterious, and I think that makes them appealing. But for me, I remember being a fan and getting a favorite from one of my favorite artists or just feeling like I could reach out and touch them. And because that was what appealed to me as a fan, that's what I want to be as an artist." Her response came as no response since she allows her fans total insight into her life through her Instagram, Twitter and Snapchat accounts.
As we sat and chat, I learned this was Kelsea's first time playing the Chicago Theater, though of course not her first time in Chicago. She performed at Joe's Live in Rosemont for the first time on November 17th as part of her headlining tour, and has played Joe's on Weed Street before as well. "It's honestly one of the most memorable venues and crowds I've gotten to play for," Kelsea expressed to me. "I always look for an excuse to get up here in Chicago, I love it up here," she told me. When I asked about her role in CBS Radio's Stars and Strings concert and how important it was for her to be there, Kelsea replied that, "It's amazing to honor Vets, obviously, and I think as a new artist it's really important for me to get involved in things that matter really early on so I can keep growing into those things, and honoring our Veterans is a big one." Kelsea also revealed that her favorite patriotic song is Lee Greenwood's "God Bless the USA" since as she explains, "Growing up it's the one I remember the most."
This rising star wrote her first song at only 12 years old and made the move to Nashville at 15 with her mom, an experience she described as scary. "It was extra incentive to really make it work, not only for myself but for my mom too. And that was an extra kind of drive that I needed," Kelsea explained. Since then it's been a whirlwind of success for this country pop singer. Since the release of her debut album, The First Time, in May of 2015, Kelsea has received multiple award nominations, two of which she won, and a gold certified album. She's also set a record by having three consecutive singles in a row go number one. She's been named one of CMT's Next Women of Country, and now she's officially received her first Grammy nomination for Best New Artist. And that isn't even everything this bombshell has accomplished.
"I can't believe it's happening how it is," Kelsea expressed when asked how she feels about it all. "My goal is to keep laser focusing on making music, and just hoping that continues to respond how it is and connect how it is. And then all the rest is extra. It's exciting."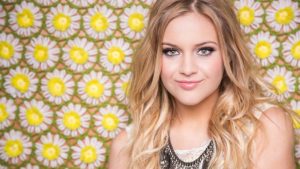 Kelsea's debut single, "Love Me Like You Mean It" reached number one in July of 2015, and landed on Rolling Stone Country's 25 Best Country Songs of 2015 and Billboard's 10 Best Country Songs of 2015. "As a new artist when we wrote that song, I didn't have a record deal and I loved writing…I wanted to be an artist and I was kind of in that discovery period of what I wanted to say, how I wanted to say it, and what my thing was and figuring that out, and that was a huge song for that. And the fact that it was embraced like it was and went number one, and I mean radio played the crap out of it and just to see people cling to it like they did was super awesome."
It's easy to see why people are clinging to Kelsea and her music the way they are, though. The "Love Me Like You Mean It" singer's songs are nothing if not relatable. With lyrics that read like pages ripped right from her diary, it's clear Kelsea is a no non-sense kind of girl who doesn't take herself too seriously and has no problem calling a guy out on his B.S. It's also evident she's no stranger to heartbreak either. The first three singles off The First Time are proof of this. If you think Kelsea is just another pretty face or carbon copy country pop singer, though, you couldn't be more wrong. This southern girl has got her own identity and it comes with its own list of influences.
"As a songwriter, Hilary Lindsay…she's the reason I started writing songs as a girl…as a performer and someone who looks after her fans, Taylor (Swift), and as a vocalist I'll never compare, but she's my goal, is Kelly Clarkson. I think she's the best singer in the whole world, and my favorite thing about Kelly is she is the perfect mix of she can sing her heart out, and then she just talks about the normal. She's just so normal and I admire that about her."
When I asked about a second album Kelsea did confirm she already has one in the works, which – if everything works out according to plan – will feature two duets on it that fans can look forward to. The young singer also revealed that there's already a CMT Crossroads in the works for her, and while she couldn't tell me who she'll be sharing that stage with, she was able to share the name of another artist she would love to be able to collaborate with as well.
"Miley, I want Miley…think about "Wrecking Ball" and "Peter Pan" together. It makes me emotional. "Love Me Like You Mean It" and "Party In the USA"…put me in Coach!" Kelsea exclaimed.
Until that duet happens, though, fans can enjoy her duet with Jason Aldean "First Time Again," featured on his new album They Don't Know. On that Kelsea explained, "He's the best! I love this song! The co-writer texted me. He was like 'Hey, we just got a Jason Aldean cut. He wants to make it a duet, and he thought of you. Would you be interested?' I'm such a huge Aldean fan. He's the ACM Entertainer of the Year, like of course I would love to do a duet with him! And then I heard the song, and it's so beautiful. It's called "The First Time Again" and my album is called The First Time. It was just like this really cool coincidental thing that made a lot of sense, and I'm so glad he thought of me."
Like her predecessors before her, Kelsea Ballerini is quickly sweeping radio by storm with her upbeat, fun-loving, and emotional country-pop crossover sound.
"I grew up on pop and I'm really open about it. I love pop music. I also grew up on a farm in East Tennessee, and I'll never forget hearing (Keith Urban's) "Stupid Boy" on my friend's Myspace page, and it completely changing my life; I liked it so much. I went and got Keith Urban and Taylor Swift's records, Sugarland and Dixie Chicks and that was my introduction to country music. But it was already what I was writing 'cause it was my life. I just didn't realize there was a place for it."
Faith Hill, Shania Twain, Carrie Underwood, Taylor Swift….these are the names that come to mind when I think of women who have successfully left their mark on music by bridging the gap between country and pop music. Needless to say, with the records she's already broken, a sold out headlining tour under her belt, and a Grammy nomination, Kelsea is undoubtedly following in the footsteps of Faith, Shania, Carrie, and Taylor. She not only has the same amount of talent as those fab four do, but she also has the same persistent drive and charismatic personality that make her not just a fantastic artist, but also a very unique human being.
"I think as an artist in general you should always feel like you have more to prove, whether you're a female or male," Kelsea proclaimed. It's quite evident this southern beauty has plenty more she wants to prove to the world, and she's not slowing down anytime soon. At a time when artists can come and go faster than we can even learn their names, Kelsea Ballerini sparkles like a star in the dark. She is the whole package and the real deal. In a world driven by the ADD generation, Kelsea is here to keep your attention.