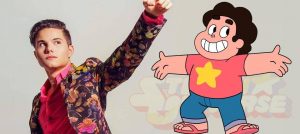 I have not hidden the fact that I love Steven Universe. And I have recently gotten my other half into it as well, though I suppose even I didn't know the extent of their enjoyment of the show. It was they who suggested going to the panel to see Zach Callison, AKA the voice of Steven Quartz Universe.
I honestly did not go into this panel expecting much. I know he is a young actor and I didn't know of a single other thing he had done outside of SU. But I was quite surprised at how much fun he was and how many great questions he got to answer.
Many of those questions were about his favorite things from the show. He revealed that one of his favorite episodes to do was Steven and the Stevens since he got to do roughly 75% of the lines from the episode and got to play against himself quite a bit, as well as do all the vocals and harmonies for the songs they sang together. He also loved the music from the Mr. Greg episode, citing "Both of You" as his favorite song he did from the show, while his all-time favorite is the song "It's over, Isn't it." Callison also said he loves anything he can do in the Peter Pizzapopolis voice. His romantic ship of choice is Lars and Sadie, while his favorite friendship is Steven and Onion, whom he described as "A gentle soul with weird friends, maybe a darker history, and lots of misdemeanors." He loves the character of Ronaldo, AKA Bloodstone. Also, his favorite colors are black and pink.
He was also able to reveal some things about recording the show. As well as providing the voice for all the Stevens (even when he changed ages), he also lends his talents to Onion, Pumpkin, the Watermelon Stevens, and at least one Crying Breakfast Friend. He also explained that unlike a lot of other voice acting work, the main cast group tries to record together whenever possible. He went on to say that they were all terrific friends now and all fans of the show. He added that Steven's voice was far enough removed from his own that he could watch the show and not be bothered by hearing himself.
This panel was not without some useful tips as well. His tips on becoming a voice actor included making dumb voices and sounds all the time, as well as imitations. Then when you can imitate another voice, put an accent on it! Then it's yours and you didn't steal it. ("Actors are ethical thieves." – Zach Callison) he also recommended going to iwanttobeavoiceactor.com to read up on some info on how to do voice over work as a profession.
Callison also touched on some of his music work outside of Steven Universe. He has been working on an album that is set to release in April or May. He describes his style as theatrical Alt music. He has a single from the album out now. The song "War" is kind of a clap back at an old flame. The story goes that she has been working on releasing an album for almost seven years and still has nothing to show for it, so Zach has made this music to in a way say, "Here's my music, now where is yours?" And after checking out the song, I am personally very excited to see what else this young talent has to offer.
Zach Callison's panel was just fun throughout and very enjoyable. He does conventions frequently and often with other voice actors from the show. I would certainly recommend you take the time to go and see him if you are given the opportunity.