VERONICA SMITH
The Burning Willow Press authors wish to help you celebrate the best month of the year, October. How you may ask? By giving you a different author from the ranks each day with in-depth answers to questions that our staff has decided to ask them. Many will be generic, others not so much. Let's get to know the authors of BWP! Oh, and did we forget to mention… the staff there are all authors too so they have decided to chime in with some answers of their own.
So first, when did you realize that the voices in your head were telling you to write stories or go mad with all that stuck in your head?
Since I was little. Obviously, I was one weird kid. Back in the Nancy Drew days (and yes, this is dating me as older than hell) I started a couple of my own "detective" books. I got a couple chapters in and then never finished them. But I'd been hooked on writing even before that. I was a straight A student in English, doing especially well in writing.
I know many writers who jump in all different genres, so what is your favorite to write?
Any kind of horror, I love horror. I do tend to write a lot of zombie books/stories, whether its post-apoc or when the outbreak starts. I also have a lot of stories that are psychological horror and realistic type (the worst kind because they can really happen). If it comes to mind, I write it out.
What is your favorite book not written by you? See that question is not the same as the other one above… to follow up, what was your favorite book that you wrote?
Swan Song by Robert McCammon. I've loved post-apoc/survival books since I read Island of the Blue Dolphins as a child. The Stand by Stephen King was my favorite until I read Swan Song. I've read it at least 4 or 5 times.
Favorite book I wrote? I'm currently writing it. I'm doing the Chapter book thing on a Zombie outbreak happening in Texas and each chapter is focused on a main character in a different city in Texas. I'm on the third one and I just love the character so much, it's turned out to be my favorite book; although, I may say that as well when I'm on the fourth book. lol
When the muse is off doing their own thing instead of pushing you to write, albeit by gunpoint at times, what is your favorite time-waster?
Read books by other great indie authors. I don't read near as much as I used to or want to. I buy them and they sit on my Kindle. One day I'll take a staycation just so I can read some of them.
What is the one thing that you must do to get into a writing mood? For me, it is listening to 80's hair metal.
I like your music style. But I like mine heavier. Heavier and mostly European. My favorite band is a Swedish metal band called Sabaton. All their songs are based on great battles or wars in history. They are powerful and uplifting and when writing a fight scene, it helps it flow better. I wrote Salvation listening to them almost exclusively.
Is editing your story just part of the job or does it literally kill a part of you to "kill your children" as it has been said? What about making revisions?
I'm so OCD about that it's not even funny. Nothing I've written goes out (beta readers, submissions, etc) until I've gone over it a minimum of 3 times. That usually ends up being 5 times. I have no trouble changing stuff. The problem is, every time I reread something I want to change it; it never sounds good enough. If I don't force myself to stop after 5 times, I'll never stop.
When you read a book by another author do you ever look at it and criticize it or edit it in your head as the way you would have done it yourself?
Criticize – no. Everyone has a different writing style. Edit – yes. When I read a book (or even a post on Facebook) a typo just glares out at me. I'll usually make a list of them if I find more than one. Then I'll message or email the author and let them know. I'd want someone to do that for any of my books.
What would you like to be chiseled into your headstone?
If I changed my mind and decided to be buried (I plan to be cremated and have something cool done with my ashes – maybe one of those seed tree things) I'd probably want something along the lines of: She died doing what she loved!
What was your favorite candy to get at Halloween as a kid?
Reese's Peanut Butter Cups. When I was young everyone would go nuts if they got a full-size Snickers. To hell with those. I wanted the 2-cup Reese's. The only way to make it better (IMO) would be to make it dark chocolate!
What is your favorite Halloween ritual? And if you do not do that… what is your favorite Halloween movie?
Decorate my yard! I love to spook out my yard. I started doing it in 2000. I made life-sized wooden headstones with cute sayings (you know for the kids) and put funny spooky things in front of them. One example: "Nose-Picking Ned – Tried Picking his Nose, Picked his Brain Out Instead." Then in front of it, I had a skull with a rubber finger jammed up his nose. Silly stuff like that. But I've evolved past that. I don't put up gore (although it's not that I don't want to – HOA's; you know they suck) but I do want it creepier and darker. I have an undead cemetery with both zombie and skelly animals. I have skellys doing a variety of things. Snow White and Prince Charming skellys are dancing around the Seven Dwarfs skellys. There are 2 full-size human skellys walking skelly dogs, a bulldog and a dachshund (one peeing on the fence of the cemetery). I have giant spiders. I could go on and on. I have tons on pictures in my Facebook Albums. I could post the link here…
https://www.facebook.com/veronica.c.smith.75/media_set?set=a.10155231770754272&type=3
Beach, Mountains, Country, City? And follow up… favorite season… just a hint here… you should say, Autumn.
Semi-Country. I live in the suburbs and that is perfect. I don't want to be in all the big city mess (and Houston is just that). But I do want to have everything I need close enough so it's not a trek to get there.
Favorite Season – Fall. Haha! Just kidding! Autumn. Although in Houston, everything is summer unless we happen to have a serious cold snap in January or February. Most years we are wearing shorts at Christmas.
I know my "To Be Read" list is never ending and grows daily… how is yours? And do you prefer paperbacks or e-books? Notice I did not ask about audio?
Oh yeah, I think I have about 100 of the ones I want to read first labeled in one Collection, with another 500 behind it. I actually prefer to read on my Kindle but I love to have signed paperbacks from authors. I think I have around 3000 books on my Kindle. I have arthritis and holding a Kindle and turning pages with a button doesn't hurt my hands like holding a paperback does.
I don't listen to audio. I've tried many times but they bore me or I get one with a male narrator doing a falsetto female voice and that just kills it for me. I just gave up.
If you could not be an author then what would you be?
Originally, I planned to join the police academy out of high school and become a cop. When I was 15, I got held up while working at Baskin Robbins (I know – who the hell robs an ice cream shop – he only got $50 lousy dollars). Having a gun pointed at my face scared me so much I decided that night I didn't have what it took to be a cop. I still wonder to this day if I shouldn't have tried harder.
Cats, dogs, both, other?
We have two cats, one getting pretty old and way more "attention-hoggy" than he used to be. The other one is still a snob (typical cat). My husband has a dog; a bull mastiff. Yes, I said he has it. We are on our third sofa since we got her. She destroyed two of them. I like dogs and all, but if it were up to me, there wouldn't have been a need to get the third one. True, these all happened within two years of getting her and she hasn't done it since but I happened to like the first sofa. I have a husband and an adult son who still lives with us. Oh wait, do those count as animals?
Advice in one sentence to a new author who is not published yet?
Never, ever, ever, ever, ever (did I say ever?) give up.
Whether it's a story or a book or poem. There is a home for it out there. Here's the perfect example. I have a story that wrote a while back. It's been rejected at least 5 times; not because it wasn't good enough, but because it wasn't quite what they were looking for. Always remember that most rejections are just that. On this last rejection, it was down to the next to the last round out of 1600 submissions, and they only needed 1 in that story length. To have gotten that far itself made me feel pretty good. It was a good rejection (and yes, there can be good rejections). Then I submitted it to an anthology shortly after and it was accepted in a couple of days. In fact, it's due to come out right before Halloween. So never, never give up. I always say this: Rejections are just stepping stones to a story's forever home. (Corny as hell, huh?)
Do your siblings or other family members support your choice to write horror? Fantasy? Erotica… if you do? SCI-FI? Other genres?
My husband loves that I write Horror. His favorite thing to tell others is that I've killed him off in stories before. I once turned a nightmare of his into a very disturbing short story. He has a shirt that he wears all the time that says "Always Be Nice to My Wife. She is a Writer and Will Kill You in Her Story."
If you had written a sex scene in your book, would you be embarrassed to have your mom read it?
Not a bit, but I haven't yet. She would though. She reads everything I write, no matter how horrifying it is. Opposite thing here for me though. My son has written a Sci-Fi book and he asked me to beta read it. I wasn't warned about the sex scene though. Haha. It doesn't bother me but it was odd to read it, knowing my son wrote it.
Beta Readers, Proofers, Editors… all are important to produce a better work of literature. So, who would you say is the most important in your team? Or do you not have those in place and are working on that?
All three are important but I think the Editors have the hardest job. Like I said, I end up going over my work about 5 times. No matter how many times, there is always something that needs fixing or can be done better. My editors are amazing and I love them. Name dropping: Lisa Lee Tone and Bailey Henderson!
In your day of writing… do you push through it all day or do you take mental breaks?
I wish I could write all day. My day job is computer drafter at an engineering company. I have an hour commute each way so it's around 5:30 or 6:00 pm before I get home. I write during my lunch hour and when I can on the weekends.
Do you ever get to travel as an author? Do conventions? What have you learned in those endeavors?
I do as many local cons as I can. I actually sell more at cons than I do online. I started out timid, afraid to talk to people. Now I just grab a passerby and drag them over to my table. It's helped me with public speaking as well. I could talk with someone at my table for an hour, even if they didn't buy anything. The furthest I've traveled was going to Scares That Care in Virginia this summer. That is a hell of a long way from Texas and when I go again, there is no way I'm driving it. I'll be flying next time.
Book signings? Necessary evil even for the introvert?
They've helped me become less of an introvert. I may not mingle that much at a party but I interact with people at a con. Actually, if you are talking books at a party, I'll talk your ear off.  I enjoy telling someone about my books and finding out who they like to read. I've discovered new authors from readers too.
What do you have coming out in the next year and who is producing it?
Working on my current Short Story series mentioned above, Between the Pages. I have Chapter One: Carrie and Chapter Two: Jenny done and they are on Amazon. I'm almost finished with Chapter Three: Jamal "JJ" and then I have three more "chapters" to do. Since each chapter focuses on a main character, I'll have a full-length book after the six chapters where they are all together. Maybe more beyond that.
I have a short story Collection called Transparent Walkways that's due to be published in the spring of 2019 by Stitched Smile Publications. It's in the editing stages right now.
And I have two short stories in anthologies coming out this month. Misophonia in Southern Fried Autopsies (I just love this book title!) and Mile Marker 76 in Dark Faces, Evil Places Volume II. I'm honored to be alongside with such great authors like Clive Barker, Graham Masterton, and Jack Ketchum.
What is your go-to alcoholic beverage of choice?
I love anything sweet and chocolatey. Godiva Dark Chocolate Liquor and Bailey's Irish Cream with Chocolate and Cherry. When I drink beer, I like fruity ones like Redd's Apple Ale.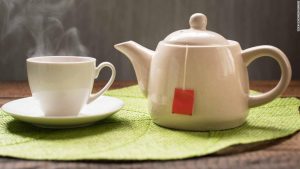 In the book, Misery by Stephen King, his main character celebrates the end of the Misery books series by smoking a cigar and drinking a scotch so, how do you celebrate a finished story?
Mine's pretty stupid. I'm a serious hot tea drinker. I buy my loose-leaf teas from a woman at our local farmers market. I have several flavors that I alternate drinking. When I finish writing a book, I mix up my flavors so it tastes completely different and while it's steeping I dance around the house singing "I'm finished. The End!" So far, I've been alone in the house with every finale – good thing. Told you it was stupid.
Are there any horror or thriller novelist that you admired when you were younger?
I started on Stephen King and Dean Koontz but worked my way up to Richard Laymon. I still admire Stephen King for never giving up. I've read interviews with him about how many times he was rejected.
Have you ever had any supernatural experiences? If so, have you ever used it as source material?
Yes, but I only wrote it as a drabble (100-word flash fiction) for a contest. Here's what happened.
My mother-in-law and I were very close. When she died, it devasted me. I wore a necklace every day that she had given me. It was pewter with an opal in the center. I had a habit of rubbing my thumb over the opal all the time. When I wore it, I felt closer to her. One day at work I rubbed the opal only to find it missing. I was panicked. I went over every square inch of the office and down the halls. I was freaking. When I got home I looked everywhere, especially around my bed since I wore it sleeping. Nothing, nowhere. I went to bed crying that night. When I woke the next morning, I swung my feet off the bed and happened to look down. Right there between my feet was the opal. I had combed that whole floor the night before. I have no doubt in my mind that my mother-in-law put that right there for me to find.
Have you ever seen a movie that was better than the book? If so, what was it and why?
Haters are going to get me on this one. I loved Starship Troopers movie and read the book years later. I couldn't stand the book and I don't even remember if I finished reading it.
As a reader, what are some ways that I can discover new independent authors and novels?
Unfortunately, I think Facebook has been overused. Their new rules are making it harder and harder to advertise on your own pages. I've branched out to Twitter, which I find kind of fun and easy to use. I also have a LinkedIn and learning to use it more. Most recently I've joined Instagram and I haven't clue what I'm doing in there. If you're in Houston, and there's a con or book fair, check it out. I'm trying to get tables at them all!
I cannot live without Chapstick. What is one comfort item that you must have?
OMG! You too? I once read a newspaper article that said: "Are you addicted to Chapstick?" Hell yes, I am. I buy those 12 packs at Sam's Club and have a stick everywhere except in my SUV (they melt into a puddle when I leave them there.) I can't stand to have chapped lips so I'll put up with this addiction!
Do you ever feel that your characters have a mind of their own and change the course of the planned storyline?
Always! I start them out one way and they grow. Sometimes I end up hating the one I start writing about or loving someone who I originally intended to be just a minor character. I've changed the whole plan of my book before so I could kill off someone different instead.
Where can we stalk you at? Instagram, Facebook, Goodreads, Amazon, Twitter, website?
I have several places:
viewAuthor.at/VeronicaSmith
https://www.amazon.co.uk/-/e/B014JCZQT4
www.facebook.com/Veronica.Smith.Author
https://twitter.com/Vee_L_Smith
https://www.linkedin.com/in/veronica-smith-author/
https://www.goodreads.com/user/show/5686256-veronica-smith