Movie: The Knight Before Christmas
Where to watch it: Netflix
Spoilers: Yes
Medieval knight, Sir Cole is transported to 2019 by a crone wandering in the forest. He is given a important quest to complete before the end of Christmas Eve. He is not  given many details other than it involves his heart and that if he fails he will not return home in time for his younger brother's knighting ceremony. Once he completes the quests, he will be returned to his own time and be a true knight.
Sir Cole is teleported from 13th century England to a rural town in Ohio. In the midst of a snowstorm, he is run over by young science teacher, Brooke (Vanessa Hudgens). Luckily, his armor protects him from serious harm but his continued insistence that he is a knight causes concern that he might have a head injury. After a quick stop at the hospital, Sir Cole was given a generally clean bill of health other than a case of presumed amnesia. When Sir Cole suggests that he spend the night under a tree, Brooke does the most obvious thing and invites the strange man to live in her home until his memory comes back to him. He spends the night becoming aquatinted with her Alexa, box of merriment (aka the television), and enjoying mead (hot chocolate). Sir Cole does several cliched manly acts that unintentionally woo "Lady" Brooke. Bonding with her niece, chopping down a Christmas tree in one fell swoop, threatening to fight "the douche" (aka Brooke's ex-boyfriend), declining the attention of the neighbor as he sensed it upset Brooke. Sir Cole also does things that we are suppose to find amusing as he adjusts to the new modern times. He is excited about the flying dragons (airplanes), Brooke's metal steed (car), and the impressive market place.
As Christmas Eve draws closer, Sir Cole becomes anxious that he will fail his quest and begins to actively seek out the solution. When Brooke's niece disappears in the snow, he tracks her and saves her from falling through the thin ice. Later he stops a would be teenage robber from stealing an old lady's purse. Yet none of these acts earn him a ticket home. Finally on Christmas Eve night, he realizes his true feelings for Brooke and confesses his love. He kisses her and the medallion that the crone gave him begins to glow. He tells Brooke goodbye and he disappears in a swirl of fog. Brooke is left in the town square, crying, and alone. Yet she does not begrudge Sir Cole his departure. She has come to the realization that if you truly love someone, you want the best for them even if that means that they cannot be with you.
Sir Cole is transported back to his proper timeline and his brother is relieved to see him. Sir Cole tells him of his Lady Brooke and that he realizes that he made a mistake by leaving her. He was so focused on returning before his brother's knighting ceremony, he did not realize what he was leaving behind. He brother reminds him that love is the first duty of a true knight and gives him his blessing to leave. Sir Cole returns to the forest yelling for the crone. She appears and he begs to be sent back to his Lady Brooke. She graciously agrees.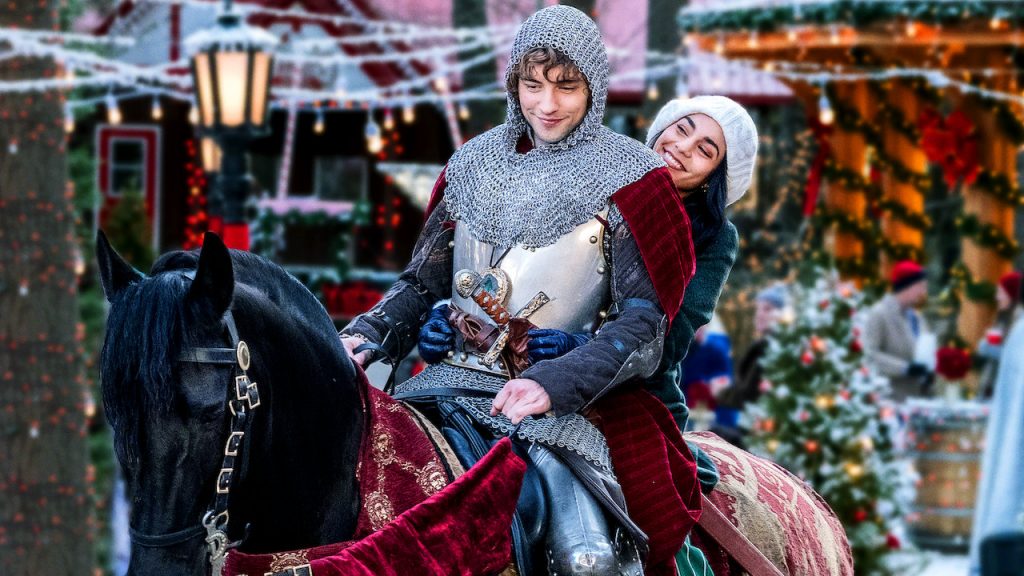 After spending Christmas morning with her family, Brooke is in the town square when Sir Cole returns. He pledges his love to her and asks her to be his maiden. And then they climb onto his horse, which the crone kindly sent along this time, and they ride off.
Rating: D+
Is it worth watching: Look, as a general rule I don't watch Christmas movies. I like Elf, Just Friends (which probably barely counts) and Nightmare Before Christmas which I can watch at both Christmas and Halloween. I'm trying to rate these fairly and maybe even round up a little – grade on a curve due to my lack of experience in the genre.
You'll have to decide for yourself. I'm not a good judge but I would say no.
Issue one- the hero's name is basically circle. Say Sir Cole several times and you will hear it. No one comments on this at all.
Issue two- mead is honey wine. If a grown man is mistaking hot chocolate for mead, he is an idiot. Brooke should run away.
Issue three- Why in all that is holy would a single women bring a strange man wielding a sword afflicted with a suspected psychosis into her home? Brooke is also an idiot.
Issue four- cliches, cliches, and so cheesy
Issue five- Sir Cole said " I am a butcher, a baker, and a candlestick maker." And you're a knight? I'm done.
Issue six – Brooke to her sister: "But what if he really is a knight from another time?" Girl, you are a science teacher and you just met this crazy man. Just because he bakes bread with "magic beans" in them, I don't think you should throw logic out the window. Your sister said you need your head examined if you believe that and I agree. I don't care that it ended up being true.
Issue seven- Who is going to tell Sir Cole that Brooke probably isn't actually a maiden anymore? She was with "the douche" for two years so I'm betting that ship has sailed.
Issue eight- Why did it have to end with them riding off on the horse and all the town's people exclaiming "so pretty!"