We want to keep you updated on what is happening with COVID-19. Our mission with this is to bring the facts from medical professionals, the CDC, and The World Health Organization. Below is a an interactive map from John Hopkins University that is updated as soon as they receive information. We will be updating this page daily. The idea is to give you the information to help you  with telling you what posts on social media are facts or falsehoods. We are in this together. If you have a question that you cannot find an answer or post that you may question, do not hesitate to email us at tbkmagazine@gmail.com or message us on Facebook or on Twitter. Please know, I am not a medical professional. But I want to make sure that we can save as many people as possible during this time.
The following information is from CDC website. Reported illnesses have ranged from mild symptoms to severe illness and death for confirmed coronavirus disease 2019 (COVID-19) cases.
The following symptoms may appear 2-14 days after exposure.*
Fever
Cough
Shortness of breath
If you are Sick please stay home. That is the main thing. We need to contain the spread of COVID-19. Call or message your doctor. Do not just show up. If you have COVID-19, you risk infecting other around you who could be immunocompromised. Find out all the details at At The CDC WEBSITE
THIS IS NOT THE FLU! THIS IS NOT A COLD.
COVID-19 and what it does to the lungs.
WHY ARE YOU ASKED TO STAY AT HOME
I know a lot of people are not happy about this decision. Right now, we need to flatten the curve. I am guessing you have heard that term a lot over the past few weeks, but it is important to know why. 1. We need to make sure our healthcare workers are able to handle the cases that need hospital care. If we continued to go out to bars, restaurants, events, and more, the virus will spread more rapidly. In Italy, hospitals are at capacity and some are over capacity. Italian doctors could be left with a decision of deciding who gets the treatment that is needed. The country sent out guidelines to their healthcare professionals. You can read more by clicking the link. https://www.theatlantic.com/ideas/archive/2020/03/who-gets-hospital-bed/607807/
We also want to make sure that others who are immunocompromised catch this disease. Staying homes and social distancing makes sure the virus does not get passed to the people we love and care about the most.
DEATH RATE
On social media, a lot of posts are about the death rate with COVID-19. People talk about heart disease, obesity, car wrecks, and flu related deaths. These comparisons are setting a dangerous precedent that COVID-19 is not deadly. The reason we have those numbers is due to years of research. COVID-19 is a NEW VIRUS. Dr. Anthony Fauci made the same statement during the 3/20/20 White House Press Briefing.
From the CDC Website:
The complete clinical picture with regard to COVID-19 is not fully known. Reported illnesses have ranged from very mild (including some with no reported symptoms) to severe, including illness resulting in death. While information so far suggests that most COVID-19 illness is mild, a reportexternal icon out of China suggests serious illness occurs in 16% of cases. Older people and people of all ages with severe chronic medical conditions — like heart disease, lung disease and diabetes, for example — seem to be at higher risk of developing serious COVID-19 illness. A CDC Morbidity & Mortality Weekly Report that looked at severity of disease among COVID-19 cases in the United States by age group found that 80% of deaths were among adults 65 years and older with the highest percentage of severe outcomes occurring in people 85 years and older.
IBUPROFEN AND COVID-19
France published a report that Ibuprofen could potentially worsen a COVID-19 infection. Tylenol is suggest by the report. The WHO did a quick review and did not find published data or research on the issue. Here is a video of Zubin Damania, MD, better known as ZDOGGMD discussing this very issue.
Chloroquine and Hydroxychloroquine
You may have heard about this drug in the last few days, but here is what is known from the FDA and WHO: The drug is used to treat Malaria. But in the past was used in the fight against SARS and MERS. Chloroquine and Hydroxychloroquine is being used by other countries for treating patients of COVID-19. And it is helping but no we do not have enough data to know if it will really work or not. But this is taken from Vox:
Chinese researchers showed in lab cell culture tests that hydroxychloroquine can slow infections from the virus behind Covid-19, SARS-CoV-2, blocking it from entering cells. Some doctors in China and South Korea have also used it to treat patients. And a recent study by researchers in France found that the drug was "efficient" in clearing upper airways from the virus in three to six days in most patients. That timing is important because an untreated infected person can transmit the virus for 20 days or more, even without showing symptoms. So it's important to shrink the amount of time a person carries the virus in order to limit its spread.
MOSQUITOES AND COVID-19
The WHO is easing some fears when it comes to the spread of COVID-19. If you live in an area where mosquitoes are almost viewed as the state bird, mosquitoes cannot transmit COVID-19 through bites. The disease is a respiratory disease.
Hydroxychloroquine and antibiotic Azithromycin (Z-Pack)
Over the past few days, you have heard a lot about these two drugs being used together in the fight against COVID-19. Researchers in France tested the two drugs in 30 patients who tested positive for COVID-19. The data released to the public shows that symptoms would help shorten the duration of patients battling the virus. The study shows us hope which is always needed in this battle. France did this test due to the results of data coming from China.
While the two drugs are showing hope, we need to talk about that these drugs should only be administered under the orders of doctors. The drugs combined could cause a heart arrhythmia or sudden stoppage of the heart.  A link to the study can be found here.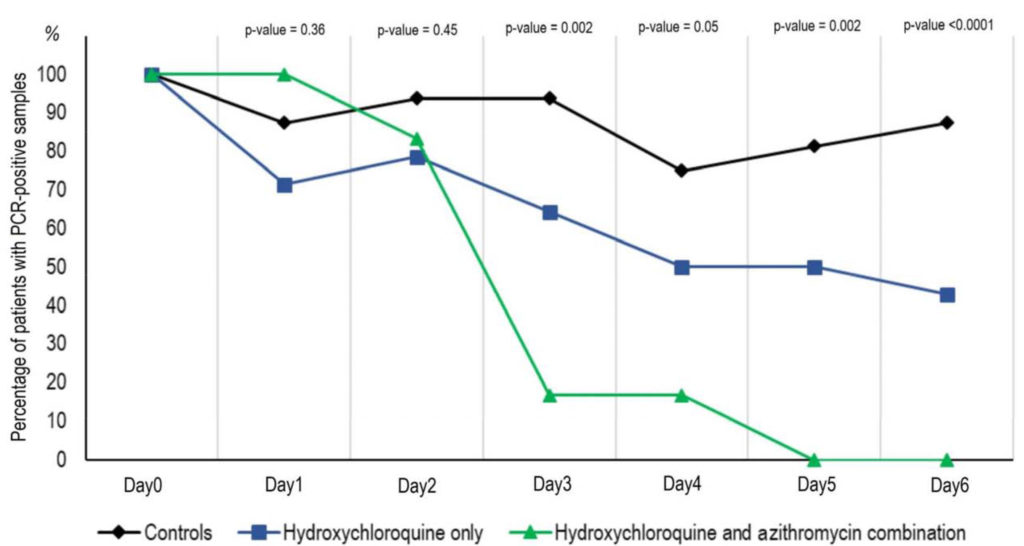 COVID-19 and A Patent Conspiracy Theory
A video being shared on social media is causing people to talk. The video is of an individual sharing what he believes is a patent for COVID-19 in 2015. This video is 100% false. The patent is from 2015 but its for SARS. SARS first appeared in 2002 in China and within a few months, the disease spread worldwide. But unlike COVID-19 which is related to SARS, the virus was contained. No known reports of the virus have happened since 2004. Once a virus is found, the virus can be patented. The reason is to help scientists and medical professionals be able to work on a drug or vaccine in case a second outbreak ever happens. The video also states that COVID-19 was created in a lab. This is also false since we know the new virus is related to MERS and SARS.
Also, in the false video, he goes into detail about Vitamin C working against COVID-19. No Study shows this data. Gargling with warm water will not get rid of the virus. This video is completely false and should be treated as so. Here is a link to disprove the video. 
The Meaning of COVID-19
An image is making its way around social media that shares the wrong information of how COVID-19 got its name.
THIS IS NOT TRUE!!!!!!! Co-corona Vi- virus D- disease 19- discovered in 2019
A REAL DOCTOR TELLS IT LIKE IT IS!
Well, a new video is making its way around the internet trying to prove that COVID-19 is a hoax. Below is said video….
A man in scrubs with the word Doctor next to his name, he must know what he is talking about. This is not that case. Eric Nepute is a Chiropractor in the St. Louis area. He started his own Wellness clinic on May 1st 2008. The clinic boasts that MDs work for the company, but on their website no MD is listed. In fact, no staff is listed outside of Nepute.
Chiropractors do not hold medical degrees, so they are not medical doctors! While each Chiropractor will still need to do attend 8 years of school, 4 for undergraduate, the next four at a Chiropractic college, they diagnosis with their hands. Chiropractors' expertise is doing adjustments, recommending exercises, and offering nutrition and lifestyle advice.

On their Facebook page, each video has a link where someone can purchase vitamins that is touted through his company.
ARE HOSPITALS BEING TOLD LIST TO COVID-19 AS THE CAUSE OF DEATH EVEN IF THE PERSON DOES NOT TEST POSITIVE
This one is a lot to digest. A story by The Western Journal is claiming that this is happening around the United States.
First, The Western Journal:
The Western Journal, previously known as Western Journalism, is an American conservative news and political website based in Phoenix, Arizona. The site was founded by political consultant Floyd Brown in 2008. According to their about page "The Western Journal is a news company that drives positive cultural change by equipping readers with truth. Every day, Western Journal publishes conservative, libertarian, free market and pro-family writers and broadcasters."
The information posted to the online publication does show a bias to the right with actual facts mixed. While some parts of stories are accurate, the fact checking process is dropped for other parts. The site is now owned by Liftable Media, Inc. The same company was behind the site Conservative Tribune. The CT for short have published articles that are 100% false. An example from the CT claimed that  The Boy Scouts Lose 425,000 because of Gender Inclusive Name Change. The largest member of the Scouts BSA is the Mormon Church with, you guessed it, 425,000 members. It's reporting for click bait purposes.
The CDC released updated guidelines on April 2nd.
[pdf id=1217062]
When an autopsy is performed on an individual, the idea is to find the cause of death. In this situation, if a person walked into the hospital without any knowledge of any underlying conditions and had the symptoms of COVID-19, and they pass away, COVID-19 will be listed as a primary cause of death.
But we do know COVID-19 can exacerbate underlying conditions. When an autopsy is performed on someone with COVID and an underlying condition, the underlying condition will be listed as the main cause of death while a secondary reason will be listed as COVID-19.
If someone dies who is not tested for the novel coronavirus, the cause of death will not list COVID-19. A person will not be tested if they are not showing symptoms of COVID-19. A postmortem can occur to see if the individual tests positive.
The story being shared is an effort to blame the media in trying to boost the numbers in hope of inciting more panic among people.
Most reputable news sites are going to be reporting the facts and numbers with what is happening in the battle with COVID-19.
THE 5G CONSPIRACY
I love a good conspiracy theory just like the next person. But holy hell, this is the most farfetched thing I have ever read on the internet. A story is going around that 5G is spreading COVID-19 to the public.
5G is the latest communication technology. The plan is to roll out new towers in hopes of making cell phones faster in being able to communicate.
And cue conspiracy theorists. The notion that the virus is spreading due to the 5G rollout. Countries without any 5G technology are still battling COVID-19. In the UK Cell towers are being set on fire.
5G TOWERS DO NOT SPREAD OR CAUSE COVID-19. USE SOME COMMON SENSE!