Series: Unbelievable
Where to watch it: Netflix
Seasons available: one -it is a limited series
Spoilers: Yes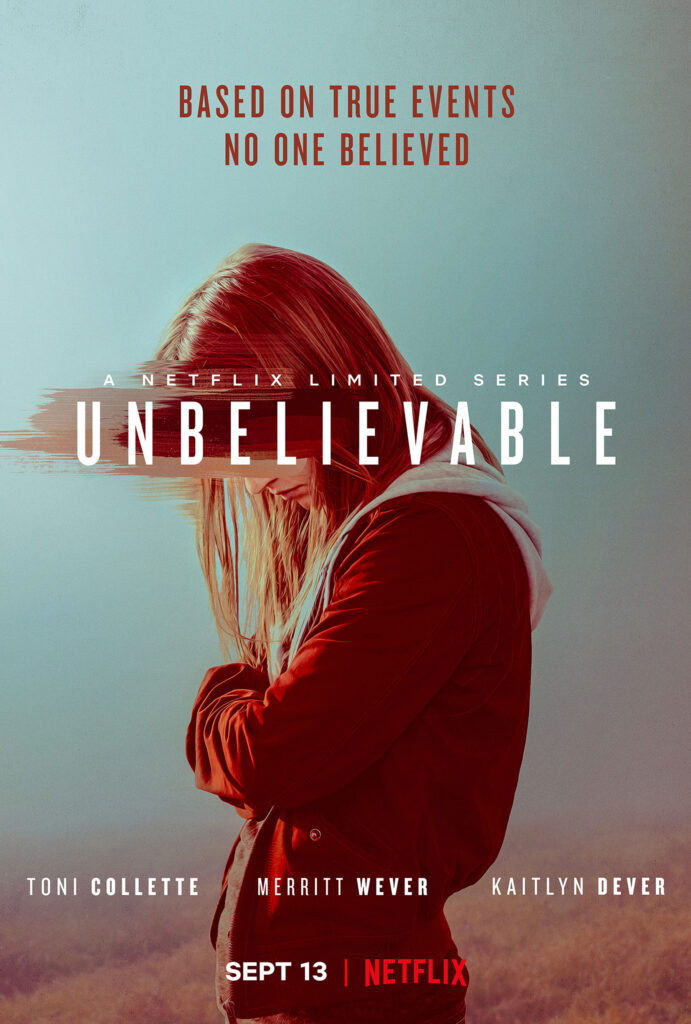 Marie is a former foster child living in specialized program that allows troubled young adults to live in their own apartments with minimal supervision and support as needed. When she reports that someone broke into her apartment, tied her up, and raped her, the police are skeptical. When Marie does not "act" like a typical rape victim, two of her former foster mothers contact the police with their doubts about the legitimacy of her story. Marie is essentially bullied into recanting her report and threatened with criminal charges. Her limited support system crumbles around her.
Three years later, in another district Detective Karen Duvall responds to a call where unbeknownst to Detective Duvall, a rape victim reports eerily similar details. Unlike the officers that handled Marie's case, Duvall takes time to listen to her victim and records careful detail. Once home, Duvall is plagued by the case. Her husband who is a detective in a different district mentioned that the details shared similarities to case his coworker is working on and suggested she talk to Detective Grace Rasmussen. After some initial reservation on Rasmussen's part, they agree that their cases are remarkably similar and are disturbed that they happened in different districts as that does not fit a typical rape profile. With their combined resources they begin to find other cases that fit the same profile. They notice odd similarities- the perpetrator's insistence on the victims bathing, being overly cautious never to leave any DNA behind, speaking multiple languages, choosing different law enforcement districts, etc. They begin to suspect a cop is the person committing the crime and this is a dangerous idea. One that will not get them much support. They must be cautious in how they proceed. Ultimately, they are correct and do catch the cop responsible. They discover countless more victims afterwards, including Marie. The police in Marie's district admit "they could have done more".
Rating: A-
Is it worth watching: Yes, this is a well written, well-acted drama, starring Merritt Weaver, Toni Collette, and Kaitlyn Dever. It is based on a true story. It is heart breaking to think of what Marie went through and yet totally believable. She was alone and not deemed a person of believable character. Whereas the other victims were housewives, older women, college students, etc. and law enforcement believed them. It also took two compassionate, determined detectives who were literally willing to risk everything to bring down one of their own. Not a quick binge. Episodes are an hour long and you do have to pay attention, but it is worth it.